The number of practising journalists and media professionals with doctorate degrees in Media and Communication is increasing with the recent award of PhD by the School of Media and Communication at Pan-Atlantic University (PAU) and thesis defence at the School of Communication, Lagos State University, (LASU).
Among those who graduated at the 17th convocation ceremony of the PAU on December 3rd, 2020 were Ijeoma Onyeator of Channels Television, Frederick Mordi, Cadbury Nigeria Plc, Bolaji Akinola of Seaport Terminal Operators Association of Nigeria and Kelechi Samuel, former Country Director, Regenesys Business School, Nigeria.
At LASU, former Saturday Editor of The Punch, Mrs Bisi Deji Folutile, Photo Journalist and lecturer at Nigerian Institute of Journalism (NIJ) Boye Ola and former Deputy Editor, The Nation on Sunday, Yinka Oyegbile have successfully defended their theses between December and January.
"Having four PhD graduates, knowing their pedigree and what they do, we are very optimistic that they will meet that ultimate aim; and Media and Communication are one of the fastest ways to make an impact in society. Having a PhD means they can do a lot," Dean of the School of Media and Communication, Dr. Mike Okolo stated.
In his Facebook page post on Tuesday after defending his thesis, Oyegbile stated "IT IS THE LORD'S DOING. Today I successfully defended my PhD (Communication Studies) Thesis at the Lagos State University, Ojo. Before these eminent scholars, I was judged fit to change my status for good."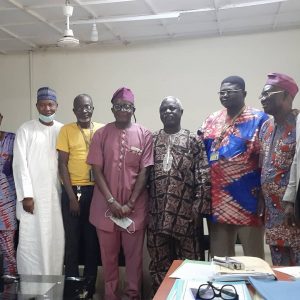 Deji-Folutile explained that her decision to enrol for the PhD was informed by the urge to develop herself and "add something tangible to my life having worked hard day and night to serve my company for over 22 years then."
"The second reason was my curiosity to learn more about communication having seen the role of propaganda in the 2015 elections and how it affected the results of the elections.
"Combining this with my hectic schedule as editor was not easy but I persevered. Fortunately for me, I was privileged to have professors and lecturers that were not interested in elongating the official time for my programme," she stated in her own Facebook post on December 24.
Dr Onyeator's thesis was titled 'Gatekeepers, Gatewatchers and the Construction of News in Nigeria.'
She holds a Master of Arts with distinction in Media, Communication and Technology from Brunel University, Uxbridge in the United Kingdom. She is also a graduate of the University of Lagos with a B.Sc (Hons) degree in Mass Communication.
She is a recipient of the prestigious British Chevening Scholarship Award and a member of the Association of Communication Scholars and Professionals of Nigeria (ACSPN), the International Association for Media and Communication Research (IAMCR), as well as an associate member of the Advertising Practitioners Council of Nigeria.
In University, her reputation for attention to detail earned her the Best Graduating Student of the Mass Communication Department.
She is a foremost Nigerian-based news anchor with professional media experience of nearly 20 years. She currently anchors Channels Television's flagship bulletin – The News at Ten, as well as several live news and current affairs programmes.
READ ALSO: ACADEMIC, PROFESSIONAL LEGACIES OF PROF DAYO ALAO
She is an adjunct member of the faculty of the School of Media and Communication (SMC), where she teaches the value of ethical newsroom leadership and professional media practice. She is happily married and blessed with children.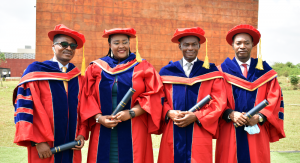 Dr Mordi's thesis was titled:'The Role of Internal Communication in Managing Diversity in the United Bank for Africa.'
He is the Head of Corporate Communications and Government Affairs, Cadbury Nigeria Plc —a subsidiary of Mondelez International—with responsibility for West Africa.
He has over 20 years of experience spanning journalism, media relations, internal communications, corporate reputation management, change management, communications consulting, corporate social responsibility, public relations, and government affairs.
Mordi holds a first degree in Microbiology from the University of Ibadan and MSc in Media and Communication from the School of Media and Communication, Pan-Atlantic University. He also has a Certificate in Research Leadership from Birmingham City University, United Kingdom.
He is a PROSCI-Certified Change Manager and a member of the Nigerian Institute of Public Relations (NIPR).
Dr. Akinola's thesis was titled:  'Millennials, Digital Natives and the Future of Print Newspapers.'
He is the spokesperson of the Seaport Terminal Operators Association of Nigeria and the Chief Executive Officer of Ships and Ports Communication.
He is also the CEO of Ships & Ports Limited and consults for leading maritime industry companies including Maersk Line, APM Terminals, Seaport Terminal Operators Association of Nigeria (STOAN) and INTELS Nigeria Limited. Dr. Akinola is Co-founder/Director of the Maritime Microfinance Bank Limited, Apapa.
Dr. Akinola holds an MBA from the Lagos Business School, a Masters in Transport Management from Ladoke Akintola University of Technology, Ogbomosho, Oyo State, and a PGD in Journalism from the Times Journalism Institute, Lagos.
He has attended several professional trainings in Nigeria and abroad, including the Birmingham City University, UK; IESE Business School, Barcelona, Spain and the U.S. Merchant Marine Academy, New York; among others. He has served as the Executive Secretary, Nigeria Maritime Expo (NIMAREX) and also as the President, Maritime Reporters Association of Nigeria (MARAN) from 2011 to 2014. A Fellow of the Nigerian Institute of Shipping (NIS) and Fellow of the Certified Institute of Shipping of Nigeria (CISN), he has won several awards and accolades in the maritime sector.
Dr. Kelechi Samuel's thesis was titled 'Prosperity or Precarity? Digital Marketing Communication and Intellectual Property Protection by Lagos-based Fashion Designers in Nigeria'.
Kelechi has extensive experience in managing businesses. His experience includes corporate business management in banking and finance as well as the management of SMEs in executive education, commercial printing and packaging, petroleum products marketing, telecoms VAS and Fintech.
Oyegbile who was former Senior Assistant Editor at Tell Communications Limited holds a first degree in Mass Communication from Bayero University Kano (BUK) and a Masters in Theatre Arts at University of Jos (UNIJOS).
He studied Newspaper Management and conflict Reporting at Deutsche Gesellschaft für Internationale Zusammenarbeit and has also worked in NEXT Newspaper as Associate Managing Editor, Independent Newspaper and Sub-Editor at Guardian Newspapers Ltd.
His thesis is titled Comparative analysis of conventional and digital newspaper readership patterns among university undergraduates in Lagos Nigeria
Deji-Folutile holds a first degree in Mass Communication from the University of Lagos and Masters in Communication Arts from the University of Ibadan.
Currently, Publisher of Franknewsnow.com and Executive Director of Winning Edge Limited, she started her career in Tribune Newspapers before joining The Punch as Sub-Editor and rose to the position of Saturday Editor.
Ola who is Head of Department (HOD) General Studies at NIJ had a BA Dramatic Arts(Ife) in 1984 and started his media career with Vanguard Newspapers as a Reporter/photographer in 1988.
He left for Thisweek Magazine in February 1989 but moved to the defunct National Concord Newspapers as a staff writer a month later.  He Resigned in 1994 to join Rathma Holdings as the Corporate Affairs Manager until 1998 to go into professional photography.
He joined NIJ in 2004 as the photography lecturer and the passion for photography education has developed over the years with training from Amsterdam based World Press Photo and Poynter Media Institute to help NIJ develop a certificate in photojournalism for Nigerian photojournalists and photographers who are interested in photojournalism as a career.
Ola obtained MSc  Mass Communication from the National Open University of Nigeria (NOUN) in 2010 and has been actively involved in photojournalism training since 2006. He was in the team that developed the curriculum for a regional examination board in Photography.
A member of the jury, Wole Soyinka Investigative Award since inception, his  PhD thesis is in pursuance of his passion for photography and photojournalism education titled Journalistic skills and News Values in Selected Photographs in Nigerian Newspapers